The quietness of winter in Ibiza is creeping  in and the ghastly screams of Halloween start to be heard. Consequently this year we wanted to create two characters who captured the essence of the night to day party which occurs yearly in Ibiza for Halloween! Due to the contrast between light and dark we created two all powerful female looks for you to recreate!
Every year, Halloween in Ibiza starts out at the world famous Pikes which under goes the ultimate Halloween make over . As the sun begins to rise the crowds make their way to the ultimate afterparty at Boutique Hostel Salines. As a result the creatures of the night now have no where to hide under the balearic sun!  Let us tell you it feels like a marathon, where only the strongest survive!!!!
AS NIGHT FALLS 
Our Queen Of Death commands the night and attention of male souls! She is Enchantingly Beautiful & Dangerously Destructive! This look was inspired by one of our idols The Wigs And Make Up Manager (Vanessa Davis) the ultimate queen of skulls!!!! Her work is mesmerising and truly inspiring!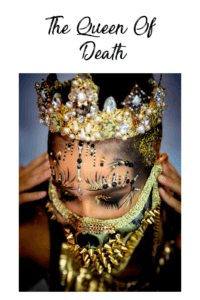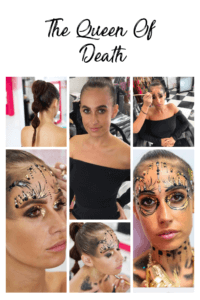 TRICKS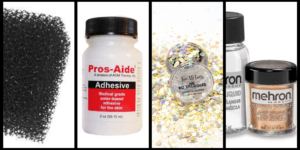 First of all, watch this tutorial on our Youtube channel!

Initially we styled Lauren's hair into a high sleek pompom ponytail.

We accentuated Lauren's warm brown  eyes by adding a wash of coco from Huda beauty  palette over her lids,  into the socket and under the lower lash line. We defined her eyebrows and added a light natural foundation base .

As we are creating a Queen of death skull inspired look we deepened and hollowed the eyes into a round smoke using blacktrack fluid line from mac. To highlight the inner corner we applied a little gold leaf using our glitter application gel which you can find in our glitter application kits www.kissmyfairy.com . We shaded out Lauren's temples using a black eye shadow then started adding our gothic print. We used Tag black water based paint and marked out our design with dots and feathery lines.

Using Mehron gold powder and mixing medium paint on a top layer of gold over the feathery lines and add golden dots into the black dotted design. We use Prosaide to attach our face gems and bindis. It's a special fx adhesive and holds well even in our balmy  balearic heat.

Furthermore we hollowed out Lauren's collarbone using Tag water based paint and added texture to the area by applying the same gold paint with a stipple sponge. Again a special fx tool we regularly use a stipple sponge to add texture and dimension to our paint designs. Continue your dotty design down the neck  but make it chunkier and less delicate than the face .

Finally with the shape of a skulls eye sockets in mind continue your black and gold feathery print around the eyes. Finally add a bit of halloween magic by sweeping our Mr Bo Spangles gold glitter into the hair and voila your Queen of death look is complete!!
AS THE SUN RISES 
The second of our looks is the Maleficent Moth-stress. She is fearless, powerful, yet deceptively dark! Sorcerous in nature this fem fatal will cast her spell over all who see her!
This look was Inspired by the Deaths Head Hawkmoth which gets its name from the sinister looking skull shape on its back. In many cultures it is thought to be the omen of death! It was famously featured in the Hannibal Lecter film, The Silence Of The Lambs!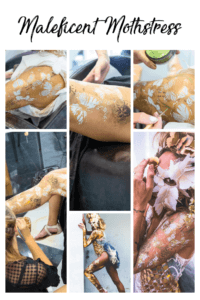 TRICKS
1. Above all watch this tutorial on our Youtube channel
2. We used a moth stencil and gold body paint spray from Laukrom to map out our design . To add in detail use another moth stencil on top of the gold. We wanted to keep our detail white so we used tag water based paint in a not to wet consistency and sponged on the design.
3. Using a baroque style skull stencil we layered Laukrom black and gold sprays to achieve a 3d effect.
4. Furthermore we hand painted in our dot detail on the edges of our  moths using tag white water based paint. . Using a metallic bronze green water based paint from Tag we added in vines to help our design flow.
5. Finally to complete the look we stuck  a beautiful gem jewellery sticker to our models hands and highlighted the design using our Mr Bo Spangles glitter. 
In conclusion to  this halloween special, we would like to wish you all a fright-full night of debauched fun! Here in Ibiza we will be donning our halloween gladrags for the infamous yearly parties at Pikes & Boutique Hostel Salines!