Once upon a time in a magical land far away a christmas story would be brought to life in a new and wonderful way!
Furthermore
Karen
one of the Kiss My Fairy owners has a deep love for The Nutcracker. Whilst working in the wigs and makeup department at the
Royal Opera House London
for 5 years she deems the Royal Ballets adaptation of the Nutcracker simply the best .  After being an MUA for over 19yrs this is one of her most treasured christmasy memories!
Moreover it has been a wonderful way to bring the KMF family of incredible Artists & Models together to create some Christmas magic.
Tash
has been our creative director in Ibiza and worked with the company for over 6 years. She has recently qualified from university in media makeup and has now started her makeup career In London in film and television!
Hannah
 has been a make up artist for nine years and has been part of the Kiss My Fairy family for the past three years! Hannah is mega creative and loves to create a mix of natural and more glam looks!
Lauren
– Worked with us in Ibiza for the first time in summer 2018 and is a professional make up artist – We have a feeling it wont be her last summer in Ibiza 😉
Keely
is a freelance pro MUA who worked for us at our little mix gig in 2017.  She extreamly skilled and creates fashion forward looks.
Marcus
has been part of the KMF family since 2012 when he spent his first season in Ibiza.  He now lives and works in London, but will be forever our glitter king ;-).
Clara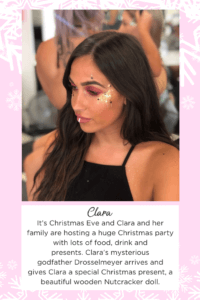 Artist our girl Hannah
Model: Our girl Lauren 
Look created using, Copper Show Stopper glitter 
The Nutcracker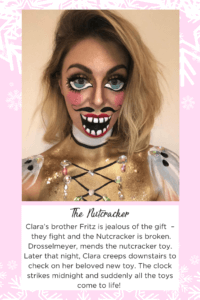 Artist & Model: Our girl Tash
Look created using, Kiss From A Rose glitter 
The Doll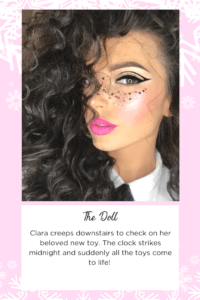 Artist & model: Our girl Keely Field MUA
Look created using, Hot Felon glitter
The Mouse King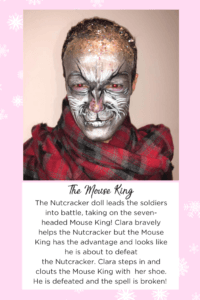 Artist: Tash
Model: Marcus 
Look created using, Mr Bo Spangles glitter 
The Snowqueen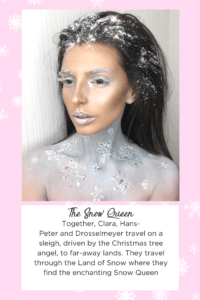 Artist & model: Our girl Keely Field MUA 
Look created using, Ice Ice Baby glitter
 As every good fairytale concludes they all lived happily ever after! Wishing all our customers old and new a magical Christmas and new year! Use code KISSMAS30 for 30% off all glitter, valid until midnight on the 31st December!